Please note that there may be spoilers contained within this blog!
Last year my hubby and I decided to start learning ballroom dancing and we went to the local church hall eager to become the next Anton and Erin.
We were introduced to the Social Foxtrot and were taught approximately 16 steps, I say approximately because the number varied each time we did it. Everything went well until we had to partner each other and go around the dance floor. After a few stops and starts he came to the conclusion that he couldn't ballroom dance if a) he had to do it to music, b) if there were other people on the dance floor and c) if he had to dance with me!
After trying to master these 16 steps I do have a new found admiration for those celebrities who perform a whole dance routine after practising for just a week.
Last night was the first week, so filled with anticipation I sat down to watch the opening programme and boy, I was not disappointed. With 15 celebrities it was gonna be a long show and I am not going to go through each act one by one ("Phew, that's a relief," I hear you say), but I just wanted to pick out those that stood out to me for varying reasons.
But first I want to start with the new judge, Motsi Mabuse: I thought she did a pretty good job, lots of helpful tips and a positive attitude. I will miss Darcey, but I think Motsi will do a fabulous job.
Obviously the first pair that I need to mention are these two – their samba, which is a notoriously difficult dance for the celebrities was amazing. As soon as I saw the first hip gyration I looked at my husband and said, "Whoa, this is gonna be good," and good it was. I look forward to their dance next week, especially if it's ballroom to see if he has the same ability in that style as well.
One of my favourite moments was when the camera settled on Jamie's face after they had performed, he did look a bit miffed, perhaps he was thinking to himself….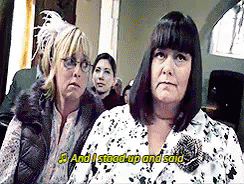 My second pair is who I had tipped to win, admittedly before Jamie left and Kelvin stepped in, but I am sticking to my guns and it is Karim Zeroual and Amy Dowden with their Cha Cha Cha. I thought it was a great dance with some tricks in it, an excellent start to their journey.
Michelle Visage and Giovanni Pernice were a surprise hit with me.  I have never seen Ru Paul's Drag Race and so I had no idea who she was, but she came and wowed with her Cha Cha Cha and as I am a woman who is also in her 50s, she did it for us!
Honourable mentions go to Alex Scott (though why David James got to celebrate all that is football and she didn't reamins a mystery), Catherine Tyldesley, Dev Griffin and also Mike Bushell, who just seems like he has an endless bound of energy.
Did anyone think that Johannes looks like an older version of Stephen Carmichael from Bad Education:
At least nobody went home and we have next week to sit back and take another look at all of the celebrities, though some will need to spend next week doing a bit more work than others…
The leader board looked like this:
This slideshow requires JavaScript.
It was a high scoring start and I, for one, am looking forward to this season – I think it will be hard fought with different people at the top of the leader board.  Don't forget we have It Takes Two starting on Monday with Zoe Ball and Rylan Clark-Neal, 5.15pm on BBC1 which I think is just for the first two weeks, then it goes back to BBC2 at 6.00pm.
I'll leave you with this, a whiteboard at the London Underground station, maybe you could show your support by using the hashtags and tags…